Working Students are an integral part of each horse's life at Smokey Hollow Farm. Working students live on premises and work full-time around the farm, doing everything from feeding and farm chores to ground work and exercising sale horses. It is truly an apprenticeship program, as each working student thoroughly learns our systematic training program through daily instruction and hands-on application. While participating in our unique program, the working students will spend plenty of time in the saddle as well as assisting in daily management of the barn and taking part in each horse's individual care, handling, and grooming. Yes, being a working student is hard work, but the benefits are endless. Our working student program has produced many successful equestrians. We are located in the heart of horse country, surrounded by endless equestrian trails and a stone's throw from several thriving show facilities, including the Tryon International Equestrian Center. If you are looking for a working student position where you will receive experience in and out of the saddle, please contact us. Full- time, year long applicants are preferred, however occasionally part-time and summer applicants are accepted.

a Few of our past and current working students

Olivia Acton (Florida): 2017
My experience at Smokey Hollow Farm has been absolutely amazing. In the time I've been here, I've grown into a stronger and much more confident rider. Cathy has pushed me to be my best self everyday. The lessons she has taught me will stick with me for the rest of my life. She has taught me everything from first aid care, and how to properly lunge, to training green horses using many effective techniques. The barn atmosphere is very relaxed and fun, which makes the horses the happiest and friendliest horses I've ever met. Cathy has truly created a wonderful place to learn, and have fun while doing so. I have made a lifelong friend in Cathy, and can't wait to take my riding career to the next level thanks to her.
---
Annie Dunn-Crouch (California): 2017
Taking a working student job at Smokey Hollow Farm this summer was by far the best decision I have ever made in my entire life. I have learned more from the people and horses here then I could have ever hoped. A special thanks to my boss, coach, and friend Cathy, you have taught me more about horses, riding, training, and management then I could ever thank you enough for. This job didn't just help me grow as a professional in the equestrian industry it helped me grow as a person.
---
Jana Grieger (Germany): 2017
During my time at Smokey Hollow Farm I have learned many great things.
Especially being able to work with so many different horses helps a lot to improve your riding skills. Cathy is a great trainer and taught me all about riding, but also all about running a barn in general. It was great to see how Cathy always found a good training program for both horses and riders, that really made you see a big improvement. I enjoyed every singe day of this opportunity and I will go back home with many amazing memories and new friends!


---
Nicole Creed (Australia): 2016
"My time at Smokey Hollow Farm was absolutely incredible. I learnt so much as a rider because of the coaching from Cathy and she taught me how to change my riding style to suit all the different horses that came onto the property. Smokey Hollow Farm is such an amazing and successful business because of how good of a person Cathy is. For each new horse that comes onto the farm Cathy is very good at evaluating their level of experience and the type of training program they should be on to get the best results possible for their owner. Overall the environment that you work in is amazing which makes it seem like not a job at all! You truly become friends with everyone and it becomes your home away from home for a little while."
---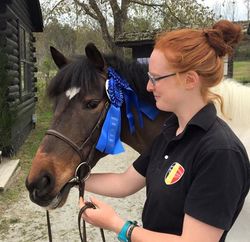 ​ Thalie Heuraux (France): 2016
"Coming to work at Smokey Hollow Farm was an amazing learning experience. I came to improve myself, and Cathy was amazing coach and taught me so much. Cathy can see the qualities and what needs to be improved on horses and riders. There are so many types of horses to work with at Smokey Hollow Farm and Cathy taught me the different ways to be with and work with each horse. I was able to compete in my first Dressage show and it was a great experience. I really enjoyed working at Smokey Hollow farm! "
---
---
Jasmin Fischer (Germany): 2015-2016
"Being a working student at Smokey Hollow Farm has been an invaluable experience to me. Cathy has helped me become a much better and more confident rider, and showed me the way to becoming a more savvy horse person. I am very thankful for the time I got to spend at this beautiful place, and I am sure that the many things I have learned here will have a hugely positive impact on my work with horses in the future!"
---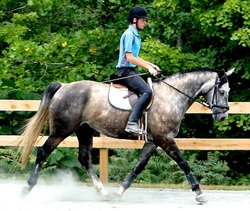 Zach Butler (New York): 2015
"Choosing Smokey Hollow Farm for my college internship program was one of the best decisions I have made. I was able to expand my knowledge in the area of working with young and green horses. Cathy challenged me and pushed me to be a better rider and trainer. I was able to help with the process of selling the horses and dealing with the clients on a daily basis. She also took the time to not only show me what it takes to run your own business but share some helpful hints. You will work very hard but Cathy makes sure that the environment stays positive and up beat so all can have fun and enjoy the passion we share."


---
---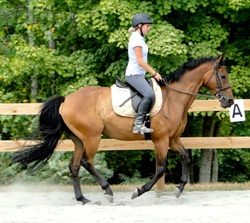 Maddy Holzapfel (Michigan): 2015
"I learned a great deal while working at Smokey Hollow Farm. Cathy is an excellent teacher for both horse and rider. She takes the time to thoroughly explain her training methods in order for her students to understand and apply the concepts. Cathy has shown me that pursuing a career in the equine industry is more than a reality for me and I am very grateful for that, as well as all the other opportunities she has provided. I had a wonderful experience being a part of the Smokey Hollow team."


---
---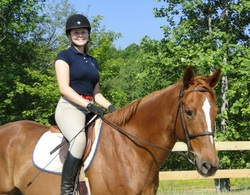 Savannah Pare (Canada): 2015
"Working at Smokey Hollow Farm was a terrific learning experience for me. I gained a better perspective on many aspects of the horse industry. Cathy was an amazing coach and helped me understand how to ride different and more sensitive horses. My time at Smokey Hollow Farms really inspired me to pursue my passion both in riding and in working with horses."
---
---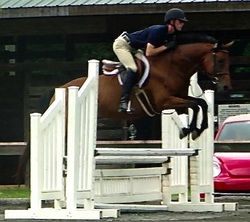 Hunter Tinsley (South Carolina): 2014
"Working at Smokey Hollow Farm has been an amazing experience to say the least. Cathy is a very hard worker and is very good with evaluating each horse and determining what kind of training program they need and getting a plan together to make it happen. Cathy has shown me every side to the equine industry as she has helped me with selling two of my horses and the purchase of another one. She is very good at finding the perfect match for each horse and each rider. Cathy is not only an amazing trainer she is also a very good friend and mentor and has helped me to become a confident equestrian."
---
---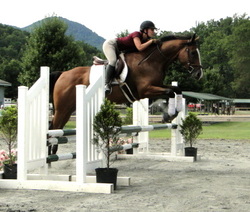 Ariel Koester (Texas): 2013-2014
"I've always had a passion for horses and riding, so I was thrilled to be able to work with and learn under Cathy during my time at Smokey Hollow Farm. The training and knowledge I've received from her have undoubtedly made me a better rider and horsewoman. The experiences and opportunities that I've had here are some of the most useful as an equestrian athlete that I have ever encountered, and have taught me such a great deal more than I could have even hoped. Cathy's methods are based on the well being and individuality of each of the horses, which creates positive riding and learning experiences for both horse and rider."
---
---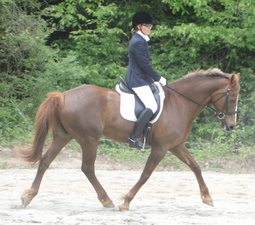 Lea Mueller (North Carolina): 2012-2014
"Cathy has helped me and my horses tremendously throughout the years. She is a very gifted horsewoman with a real knack for looking a the rider and the horse as an individual with their own strengths and weaknesses, and tailors the training program accordingly. I am proud to be a part of the Smokey Hollow Team!"
---
---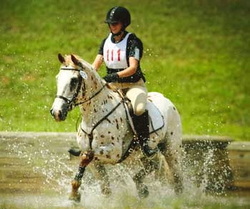 Bri Ambrosic (Ohio): 2009-2011
"Working at Smokey Hollow helped me become a strong, confident rider able to deal with the challenges that I now face training my own client's horses. The training Cathy gave me in riding and managing the barn made it possible for me to be confident stepping in to roles as a head trainer and a barn manager. Being a working student at Smokey Hollow truly helped me become the professional I am now."
---
---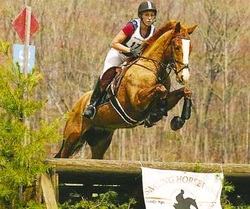 Ashley Newcity (Vermont): 2007-2008
"I always knew I wanted a career with horses, so it was the perfect experience for me. I not only got the chance to better my own riding but Cathy helped my horse and I grow as a team to a greater potential then I could have ever imagined. She helped me gain the skills to become a better rider so that I could apply it with my own horse. I got the chance to ride all types of horses and was able to take something away from each horse. I always enjoyed going to horse shows and events, it gave me something to work towards and my horse and I ended up qualifying for the Area III USEA Championship. I now have my own farm and constantly go to Cathy for advice when I have a question. I look up to her as a successful business woman and horse woman. I'm so grateful for the time I spent at Smokey Hollow Farm."
---
---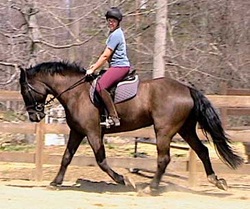 Bonnie Watson (North Carolina): 2006-2007
"Working with Cathy was one of the best work-study experiences I've ever had. She empowers her students to excel by teaching not only riding skills, but how to run a successful training farm. She provides opportunities for her students to exceed beyond what is required. Her refreshingly bubbly personality and sincere love for animals makes her a wonderful horsewoman, trainer and mentor."
---
Smokey Hollow Farm
Cathy Schwartz
Tryon, NC
smokeyhollowfarm@windstream.net
828-337-8350